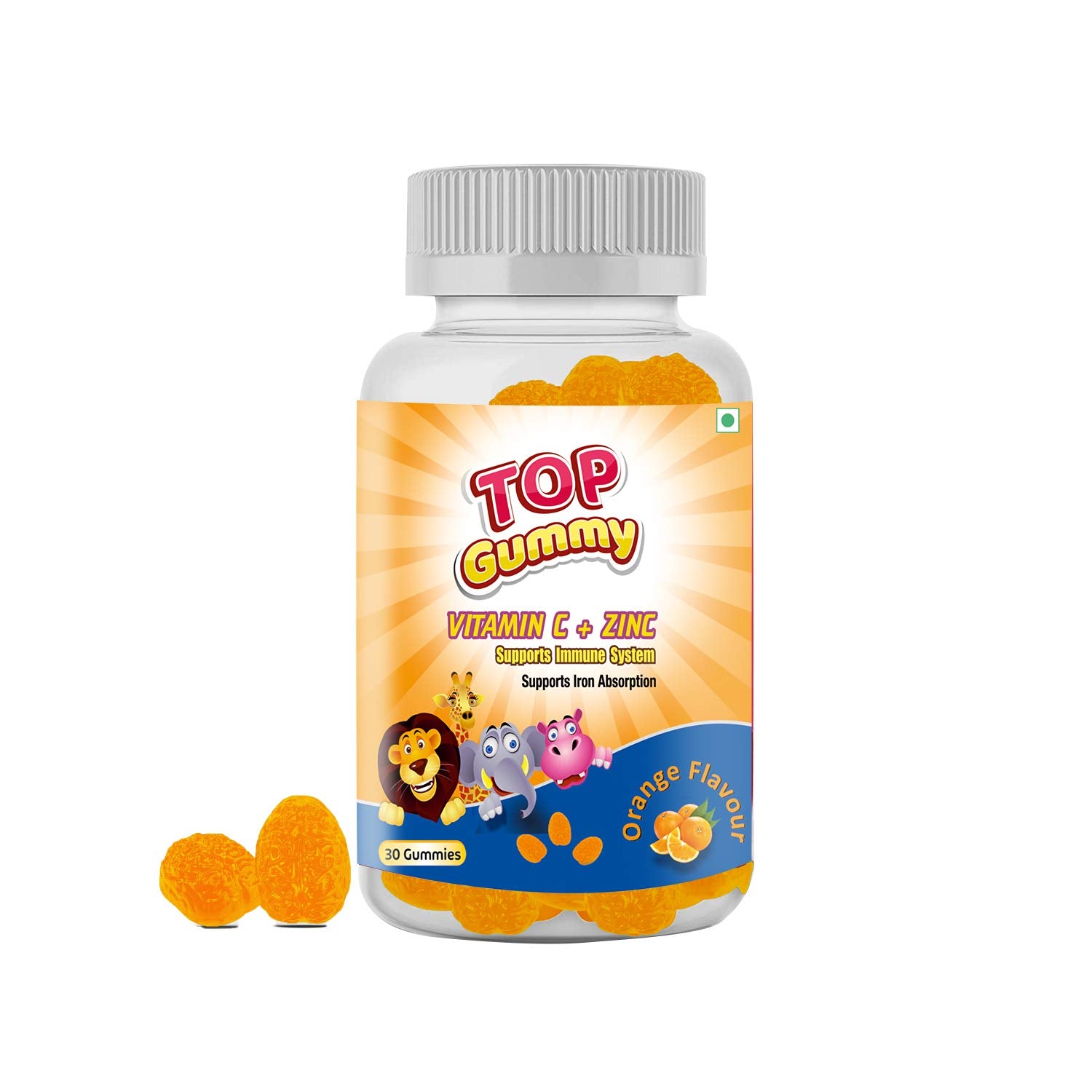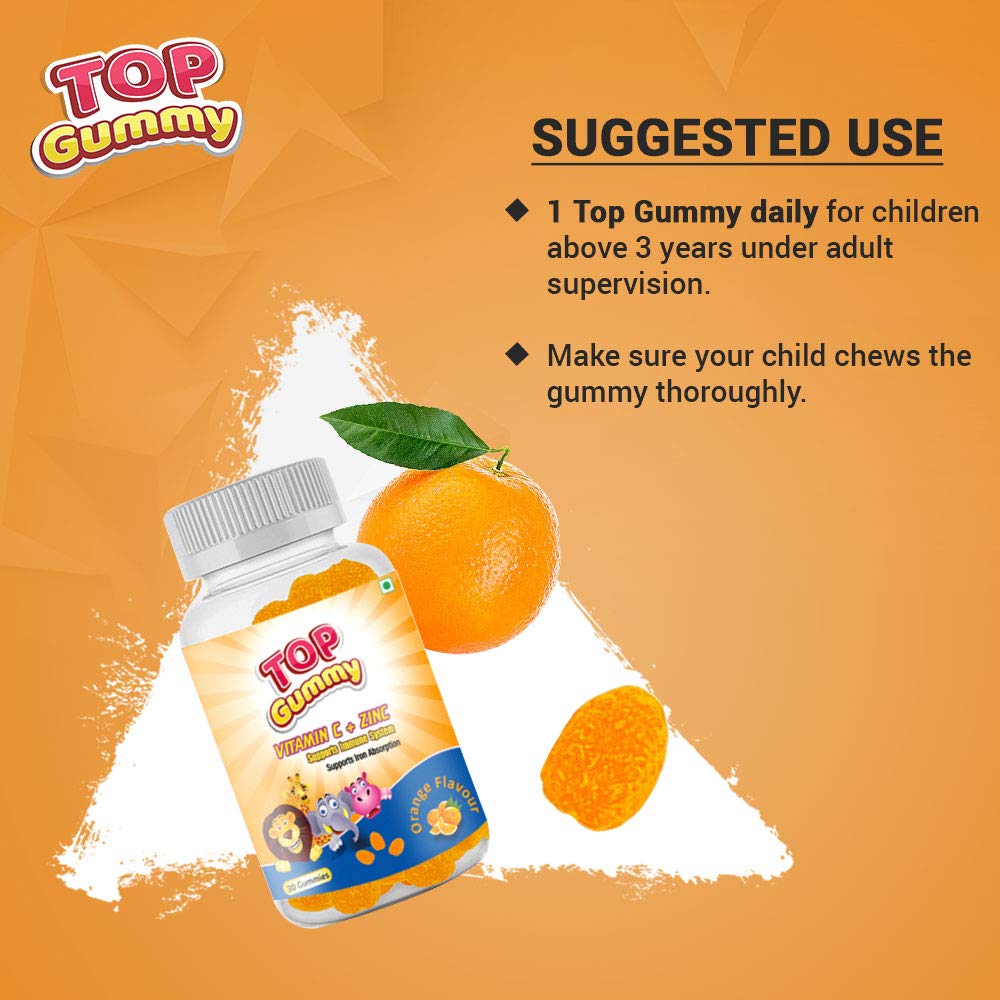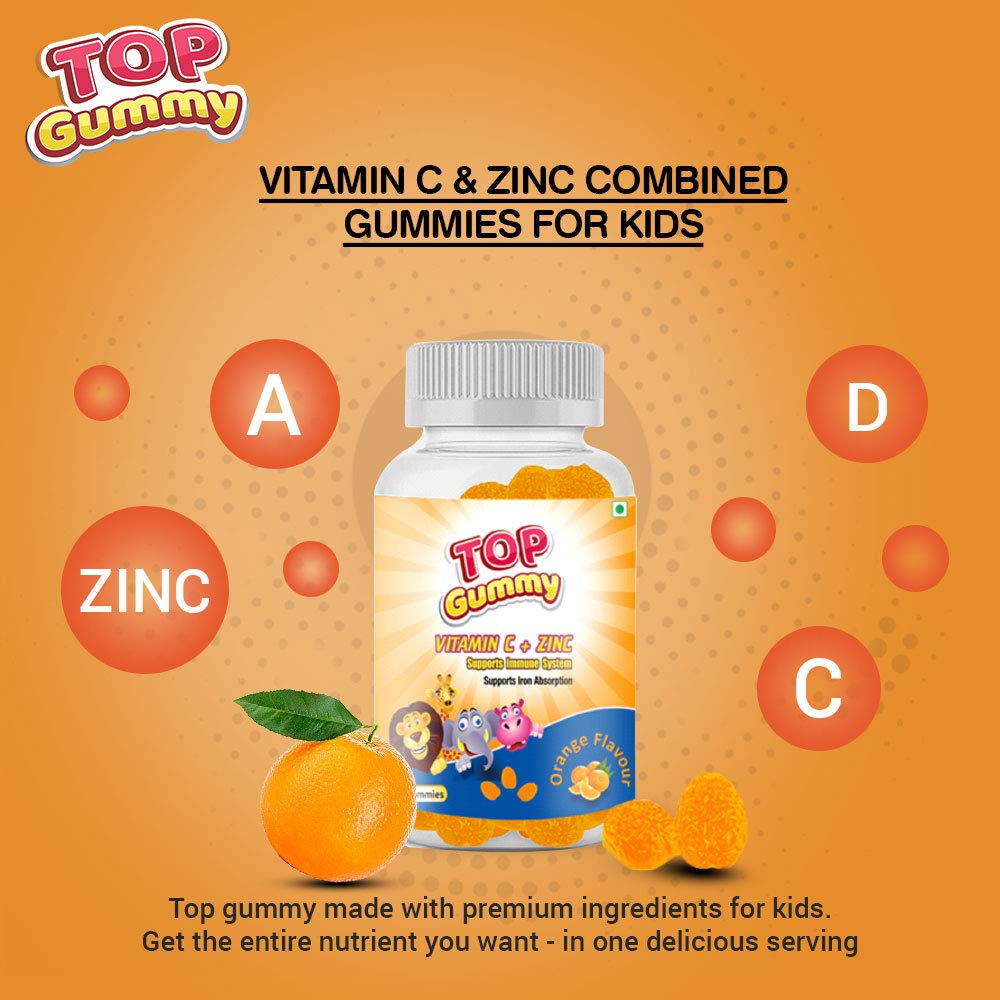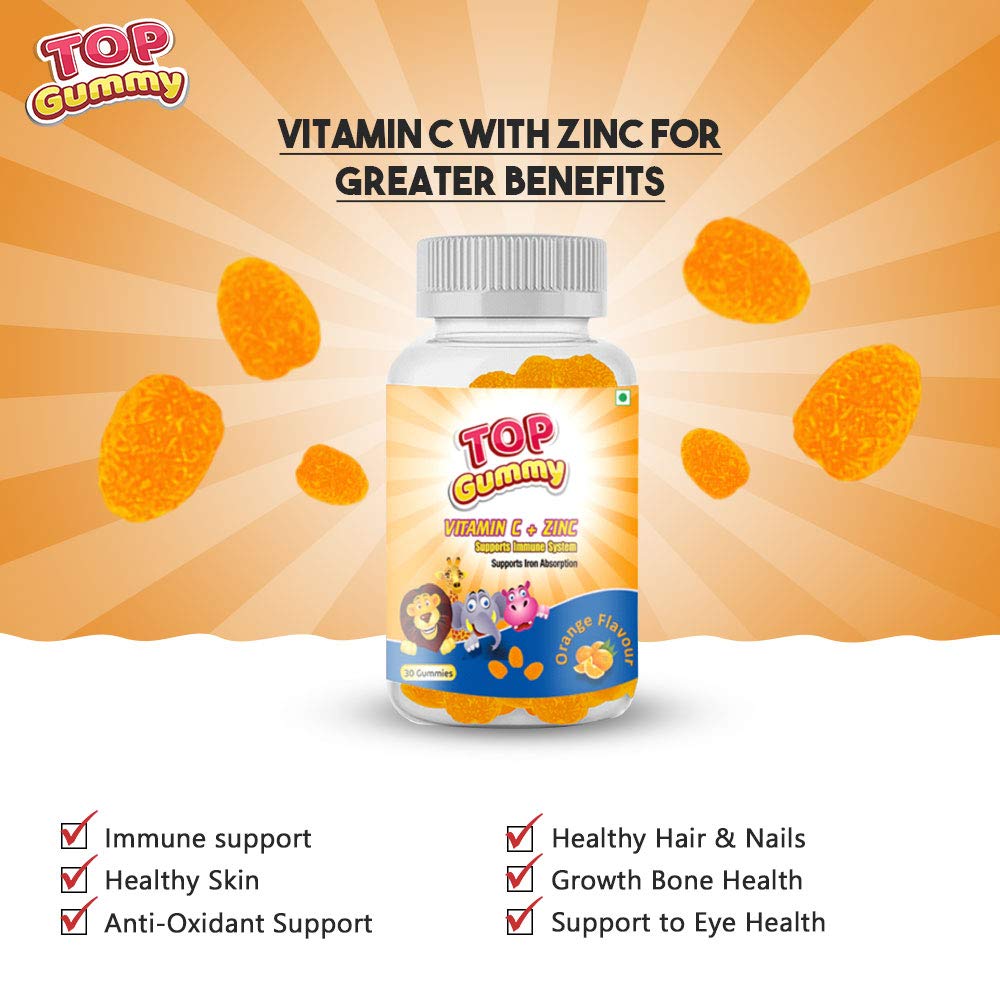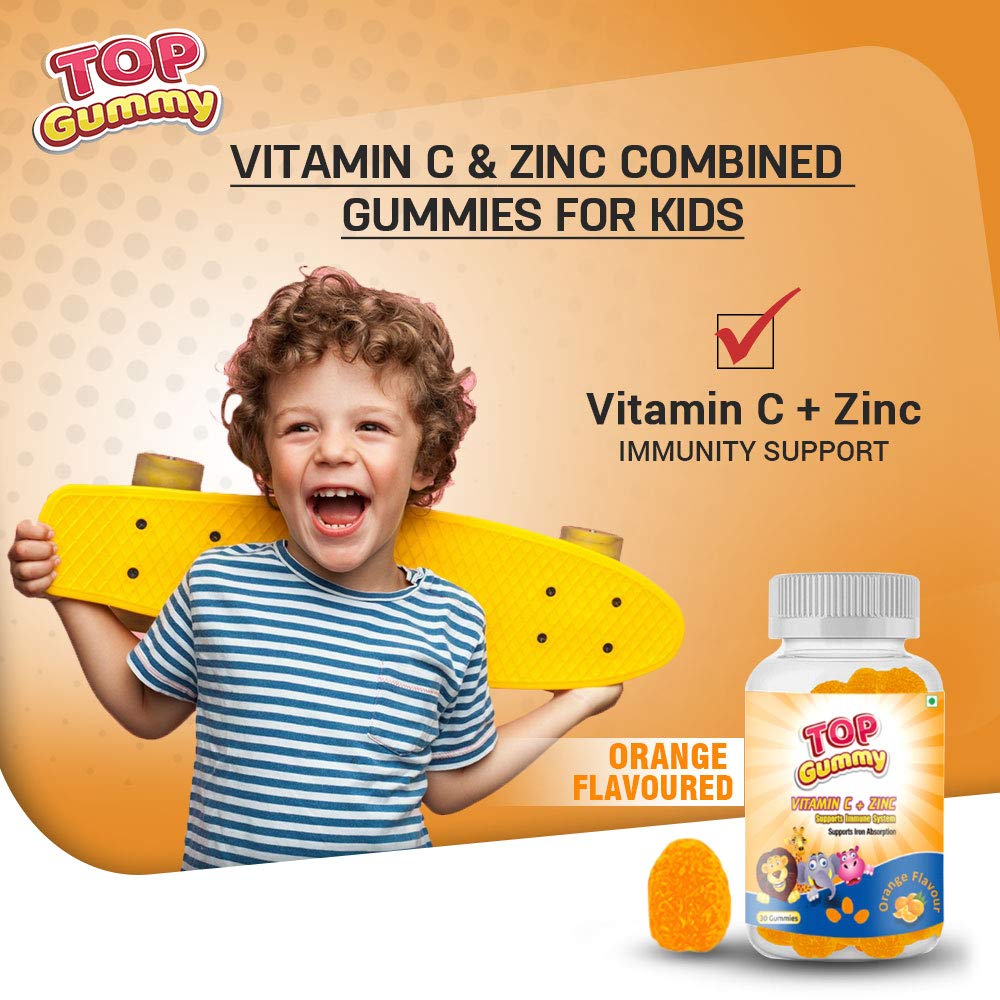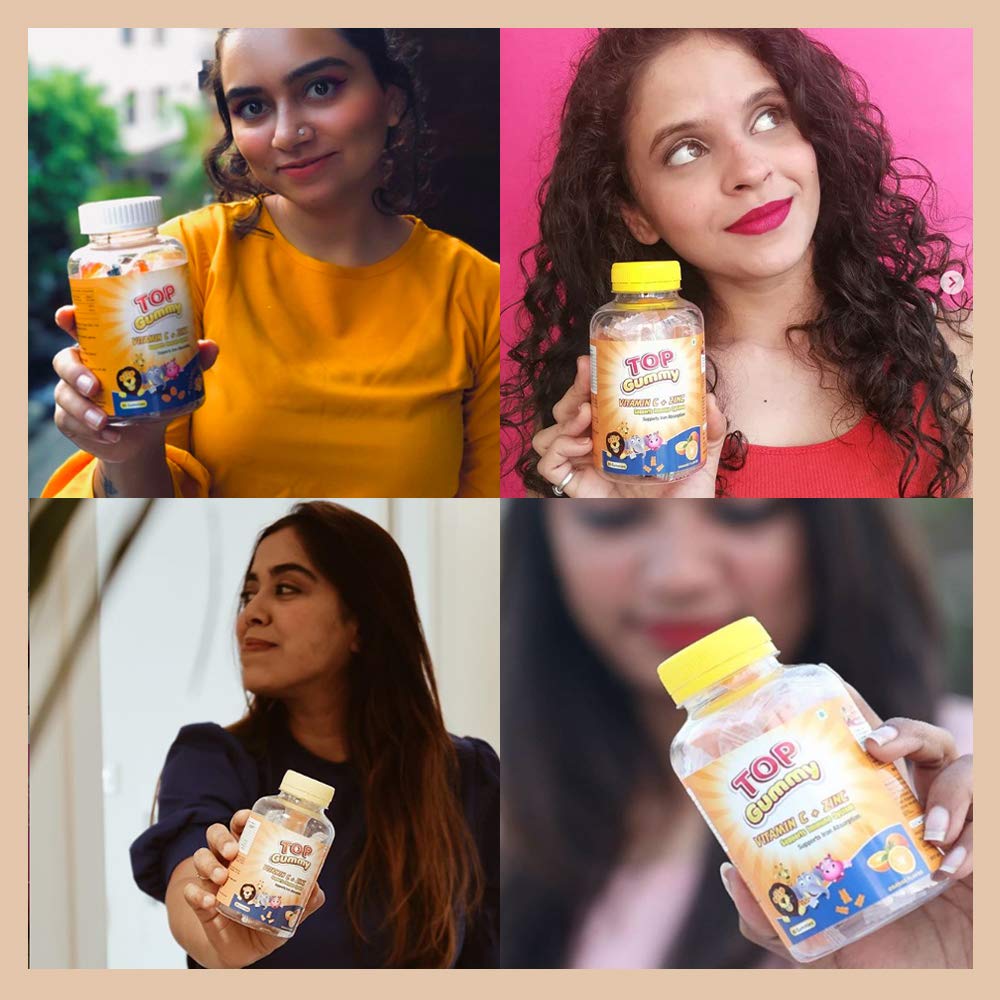 TOPGUMMY Vitamin C + Zinc For Immune Support, Gluten, Soy & Dairy Free - 30 Gummies (Orange Flavor)
Regular price

₹ 275/-

Sale price

₹ 249/-

Unit price

per
CLICK HERE FOR COD
About the product :
ESSENTIAL SUPPORT: Top Gummy Vitamin C + Zinc Gummies, for your child when their immune system needs support. These tasty and easy to chew gummies are for children ages 3+
GUMMY FORMULA: The unique combination of Vitamin C & Zinc supports your child's immunity. This powerful combination is important for growth & development, for the maintenance of the immune system & good vision.
IMMUNE SUPPORT: The maintenance of the immune system, Support Iron Absorption and Good vision.
NATURAL FLAVORS CHILDREN LOVE: An orange flavor that will wow your taste buds. Gummies have no drugs, alcohol, artificial flavors, artificial sweeteners, or gelatin and are gluten free. With natural flavors and colors from naturally sourced ingredients.
EASY TO CONSUME: Top Gummy multivitamin gummies offer a wide range of nutrients in easy-to-chew, Orange flavored gummy vitamins. Easy to take alternative to pills. Multivitamins for Adult- Men and Women.
TOPGUMMY Vitamin C + Zinc For Immune Support, Gluten, Soy & Dairy Free - 30 Gummies (Orange Flavor)
Product Description :
Top Gummy vitamin c + zinc for immune support 30 orange flavour gummies gluten, soy dairy free Top Gummy children's vitamin c + zinc gummies. Make sure your kids get extra immune support. When they need it most with Top Gummy children's vitamin c + zinc gummies. These gummies are easy to chew and taste great while delivering essential vitamins and zinc to help support your child's immune system. While other gummies use animal gelatine, we use fruit pectin to give our gummies their soft, springy texture. Committed to quality from vitamins to products that help support immune system sTop Gummy contains zinc vitamins (c, d and amp; a) that are scientifically proven to play an important role in bone and amp; joint development. Top Gummy children's support immune system gummies are made with wholesome handpicked ingredients, with no artificial colors, flavours, sweeteners, gelatine, drugs, alcohol or gluten. The unique combination of vitamin c zinc support your child immunity. This powerful combination is important for growth development. Suggested use: 1 Top Gummy daily for children above 3 years under adult supervision. Make sure your child chews the gummy thoroughly. Ingredients: sugar, liquid glucose, pectin (440), permitted natural color (e 60a(ii)), natural identical flavours, vitamin c (ascorbic acid), vitamin a(retinol), vitamin d2 (ergocalciferol), zinc (as zinc citrate).
---
From the brand
---
From the manufacturer
Benefits of Top Gummy Vitamin C with Zinc
Support Iron

The Vitamin Friends Iron Supplement gummies are vegetarian (gelatin-free) and don't contain any artificial flavors or colors. They are also free of eggs, dairy, nuts, and gluten. Though you might have to take extra precautions to keep these out of the reach of your children, your kids will take them with no fuss and won't ever complain about the taste.

*Refer to the ingredient list.

Important role in Bone

Classic Gummies for Kids. Calcium is an essential mineral that plays an important role in the development and maintenance of bones and teeth. The addition of vitamin D, which helps the body absorb and use calcium, is also necessary for building strong bones in growing children.

Strong Immunity

The cold or flu allowed the body to cleanse itself and the immune system becomes stronger to fight future infections. Never getting sick or when colds and flu lingers for many weeks are markers of a weakened immune system. On the other hand, the immune system can be hyper sensitive.
Wide Range of Nutrients
Your child's diet plays a crucial role in his/her development. An important component of this diet is Calcium. Calcium is widely known to be associated with the formation and maintenance of bones, especially in growing kids.
Support your Child Immunity
Vitamin C is the body's tool for healing and fighting off infection, and it also strengthens tissue, muscles, and skin. For healthy doses of vitamin C, look to citrus fruits, strawberries, tomatoes, potatoes, Brussels sprouts, spinach, and broccoli.
---
Detailed Specifications:
| | |
| --- | --- |
| Package Dimensions : | 6.7 x 7.1 x 13.6 cm; 170 Grams |
| Size : | 30 Count (Pack of 1) |
| Manufacturer : | West Coast Pharmaceutical Works Ltd; |
| Marketed by : | Merhaki Foods & Nutrition Pvt. Ltd. |
| Flavour : | Orange |
| Weight : | 150Grams |
| Brand : | TOPGUMMY |
| Model Number : | 6R-RC51-ERV3 |
| Item Part Number : | 6R-RC51-ERV3 |
| Item Length : | 12 cm |
| Item Height : | 12 cm |
| Ingredients : | Vitamin C, Vitamin A, Vitamin D2, Zinc |
| Dosage Form : | Gummy |
| Batteries Required : | false |
| Appropriate Age Range : | Adult |
| Active Ingredients : | Vitamin C Zinc |
| Country Of Origin : | India |