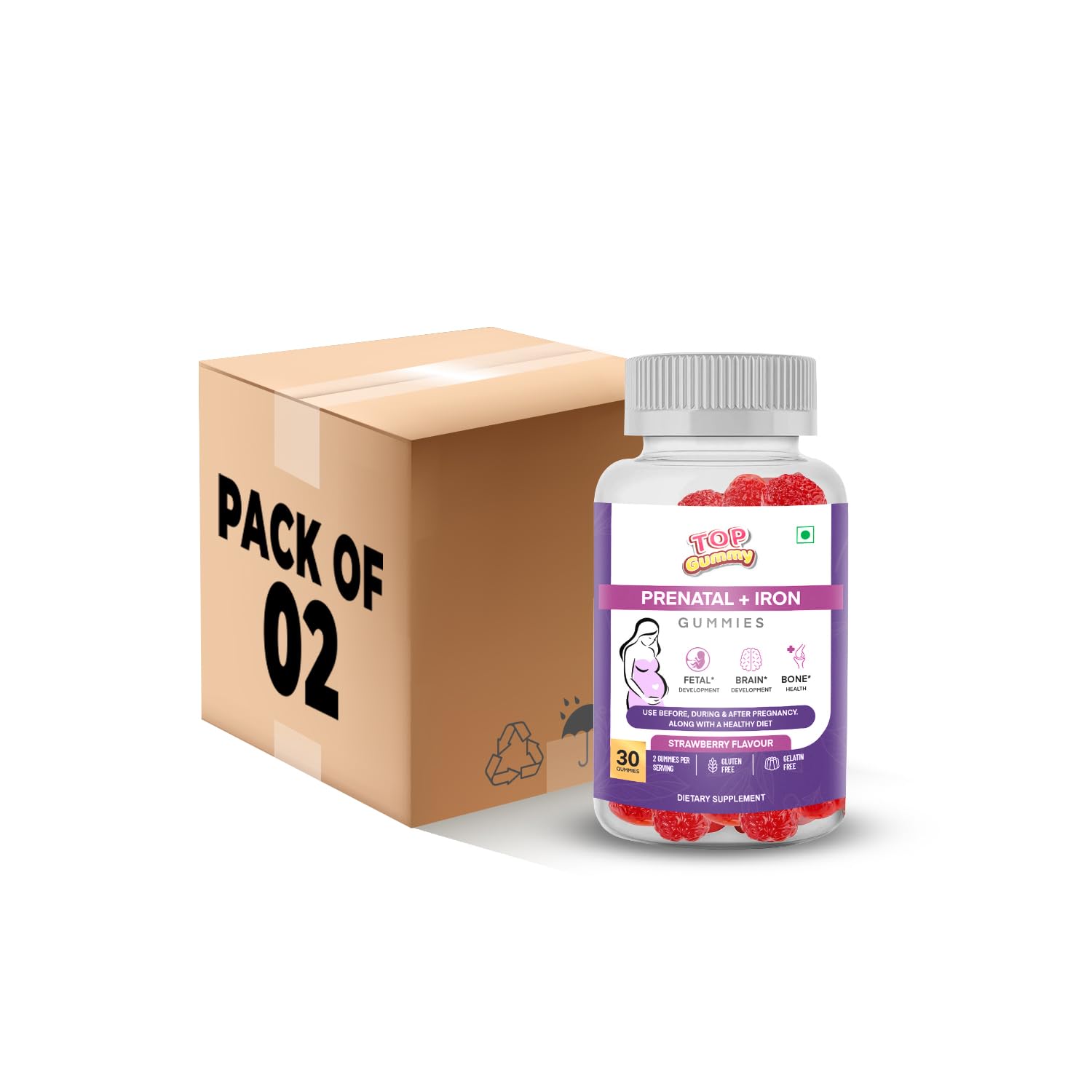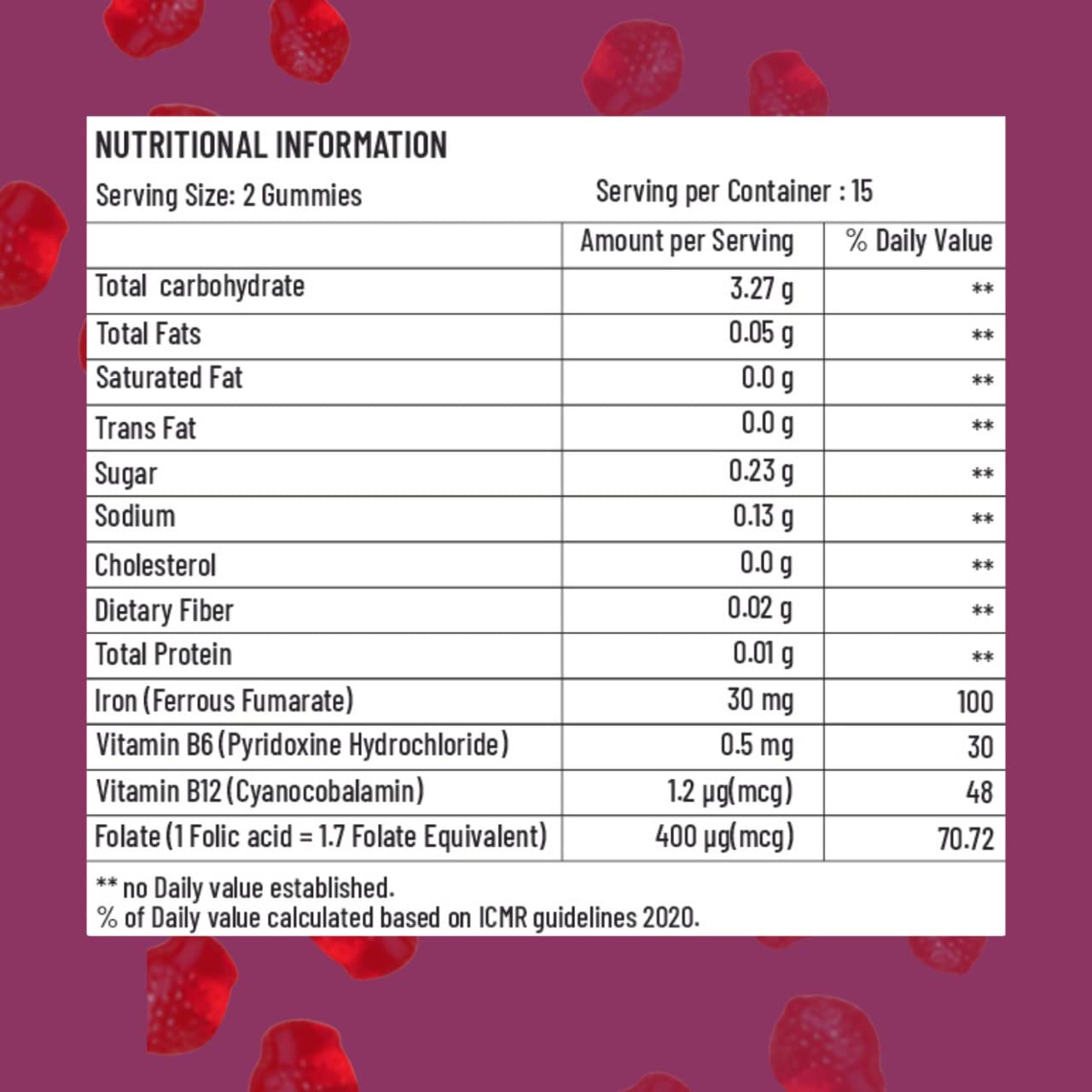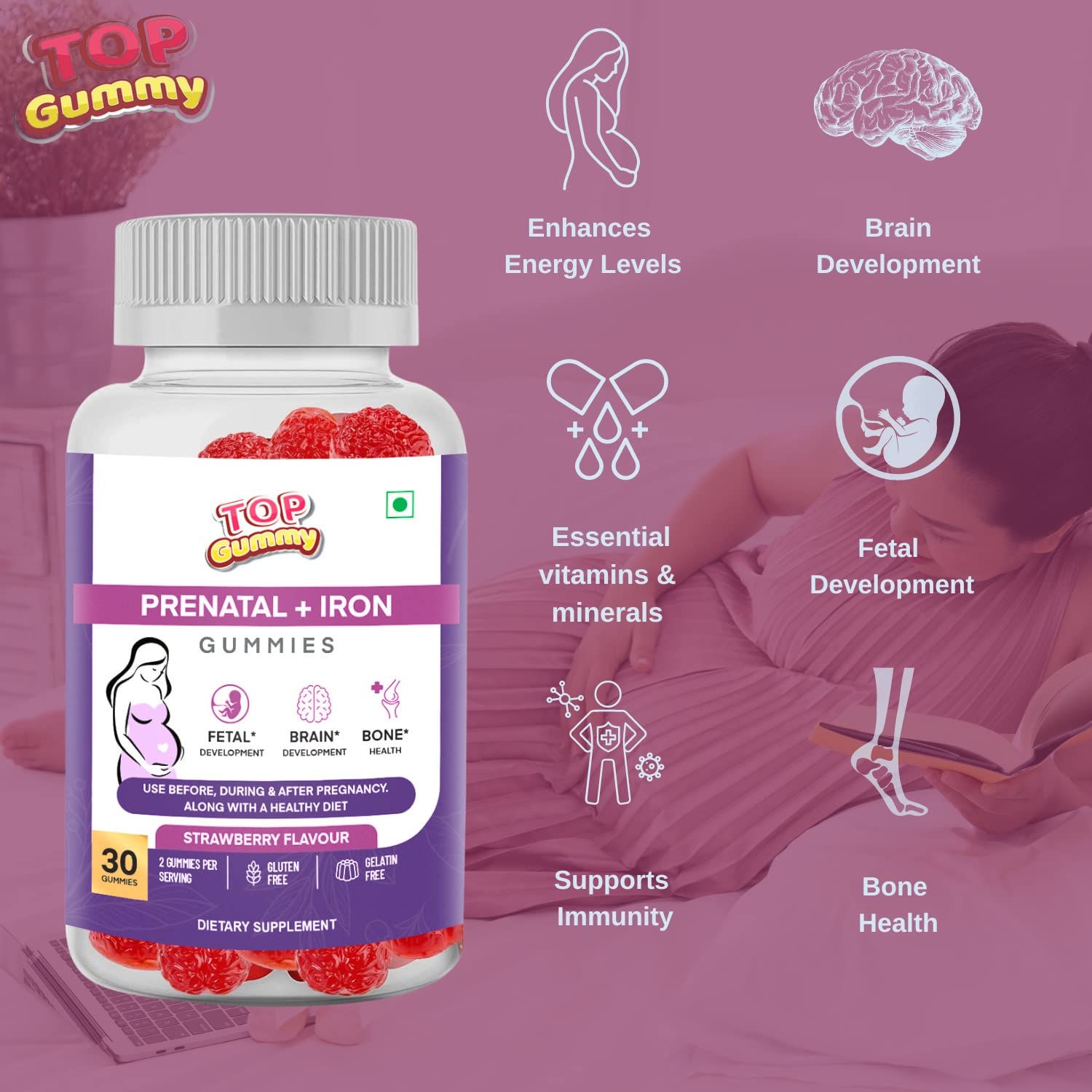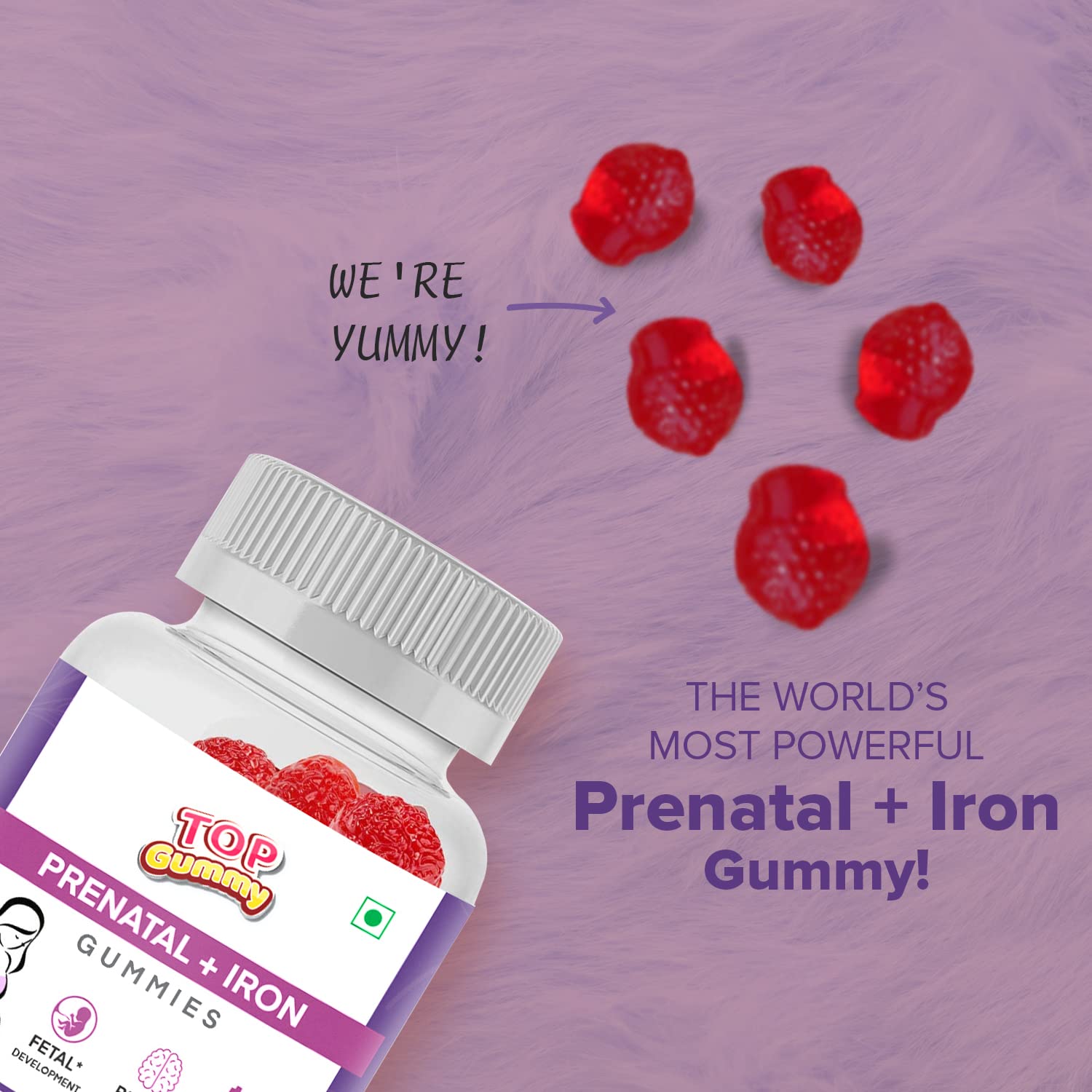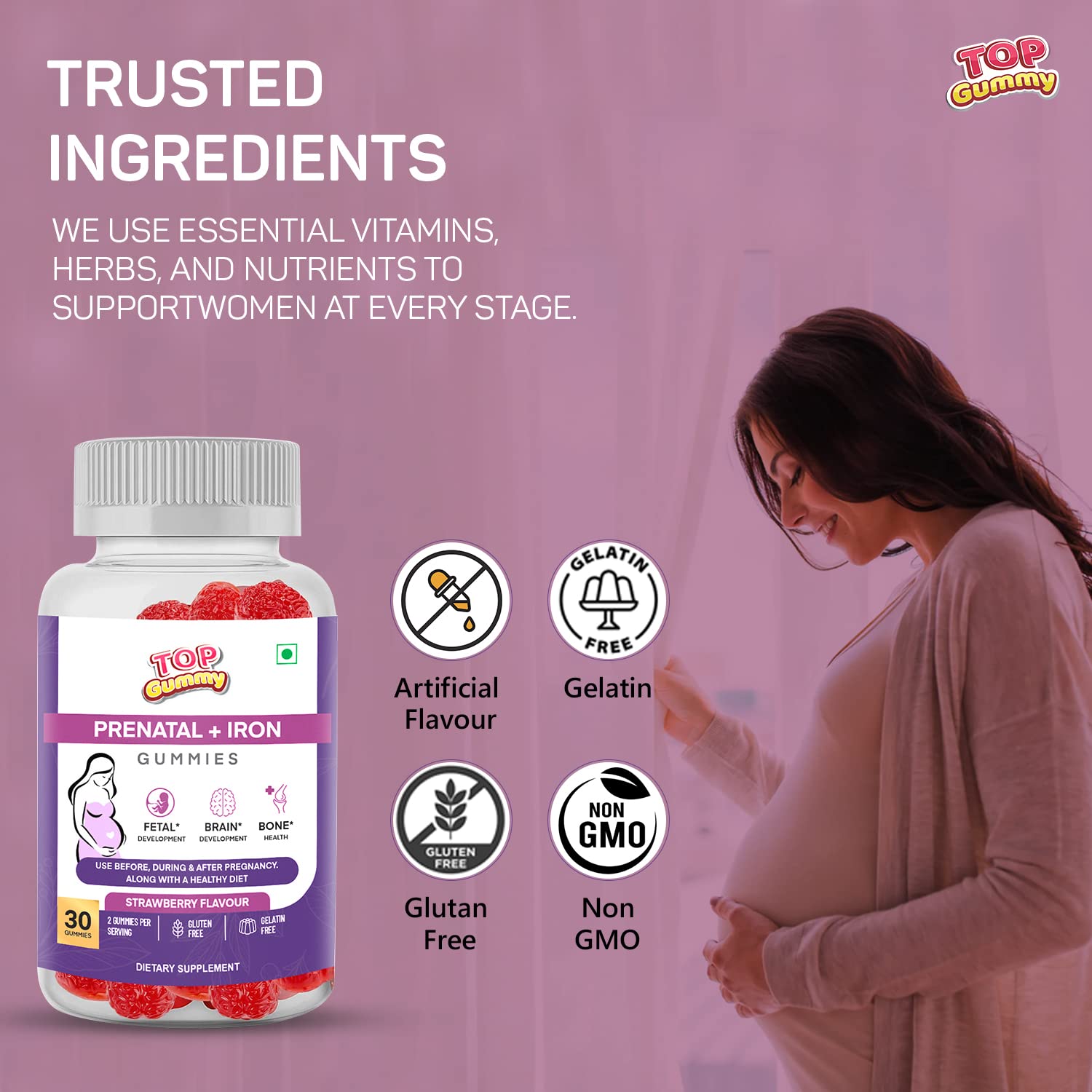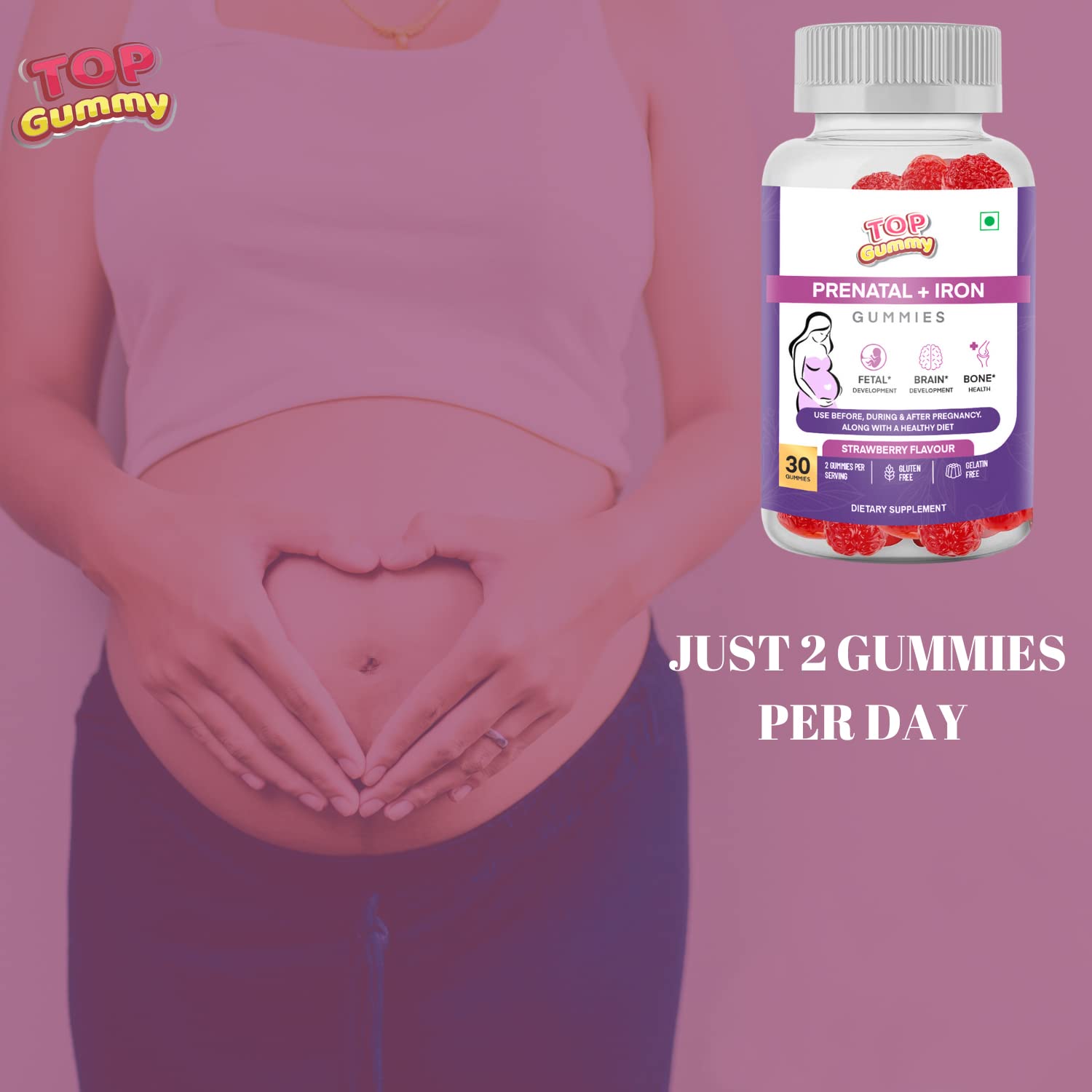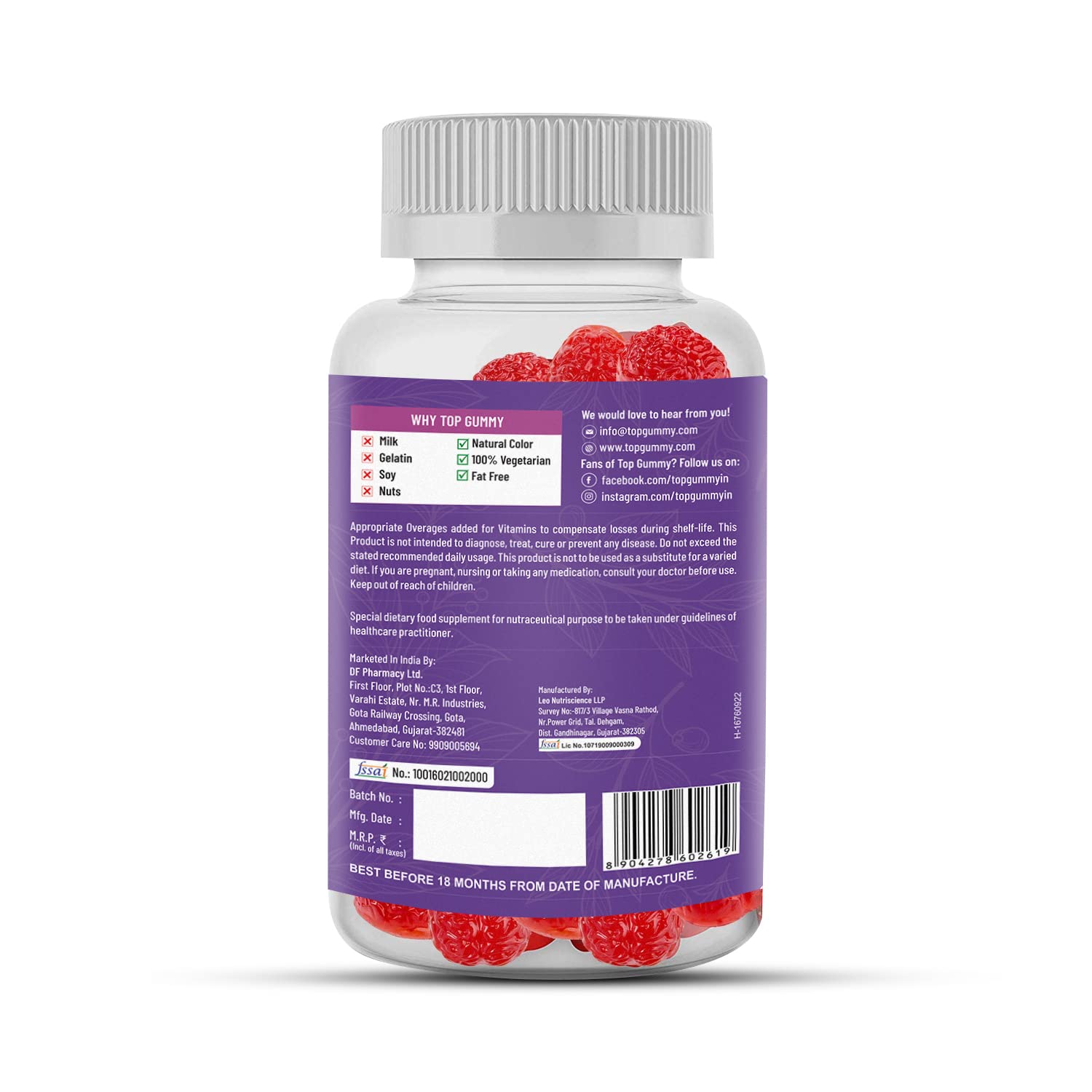 Top Gummy Prenatal + Iron with Vitamin B6, Vitamin B12 & Folic Acid | Use Before, During & After Pregnancy Along with a Healthy Diet - 30 Gummies (Strawberry Flavour) Gluten-Free (Pack of 2)
Regular price

₹ 1,000/-

Sale price

₹ 559/-

Unit price

per
CLICK HERE FOR COD
About the product :
30 CHEWABLE GUMMIES SUPPLEMENTS: Our Top Gummy Prenatal Gummies for adults can assist with a healthy energy level, better athletic performance, and energy. Top gummies made with Strawberry Flavour are the easy way to take a daily dose of Iron.
ABOUT OUR GUMMIES: Take 2 gummies per day, each jar contains 30 gummies (a 1-month supply). All our chewy gummies include active ingredients to give you a great blend of vitamins for your well-being. Why gummies, not tablets? Gummy vitamins are more easily absorbed by the body, are easier to swallow and taste better!
Whether it's before, during or after your pregnancy, this nurturing blend provides essential nutrients to keep you healthy and energized and deliver the good stuff to your precious cargo*
BENEFITS: Folate and folic acid help your body form healthy red blood cells. Folic acid is crucial through all phases of pregnancy, particularly post & early pregnancy. Supplemental folic acid intake increases maternal folate status. Folic acid is a form of folate, which is a naturally occurring Vitamin B6. Folate contributes to normal blood formation, immune system function and the reduction of tiredness and fatigue.
GELATINE, MILK & GMO-FREE: We are free from artificial colours and flavourings, free from allergens including Gelatine and any GMO ingredients.
IRON SUPPLEMENT FOR WOMEN: Most vegans and women are Iron deficient. Top Gummy strives to fix this with a product that helps meet your daily iron and vegan multivitamin requirements to sustain sufficient energy.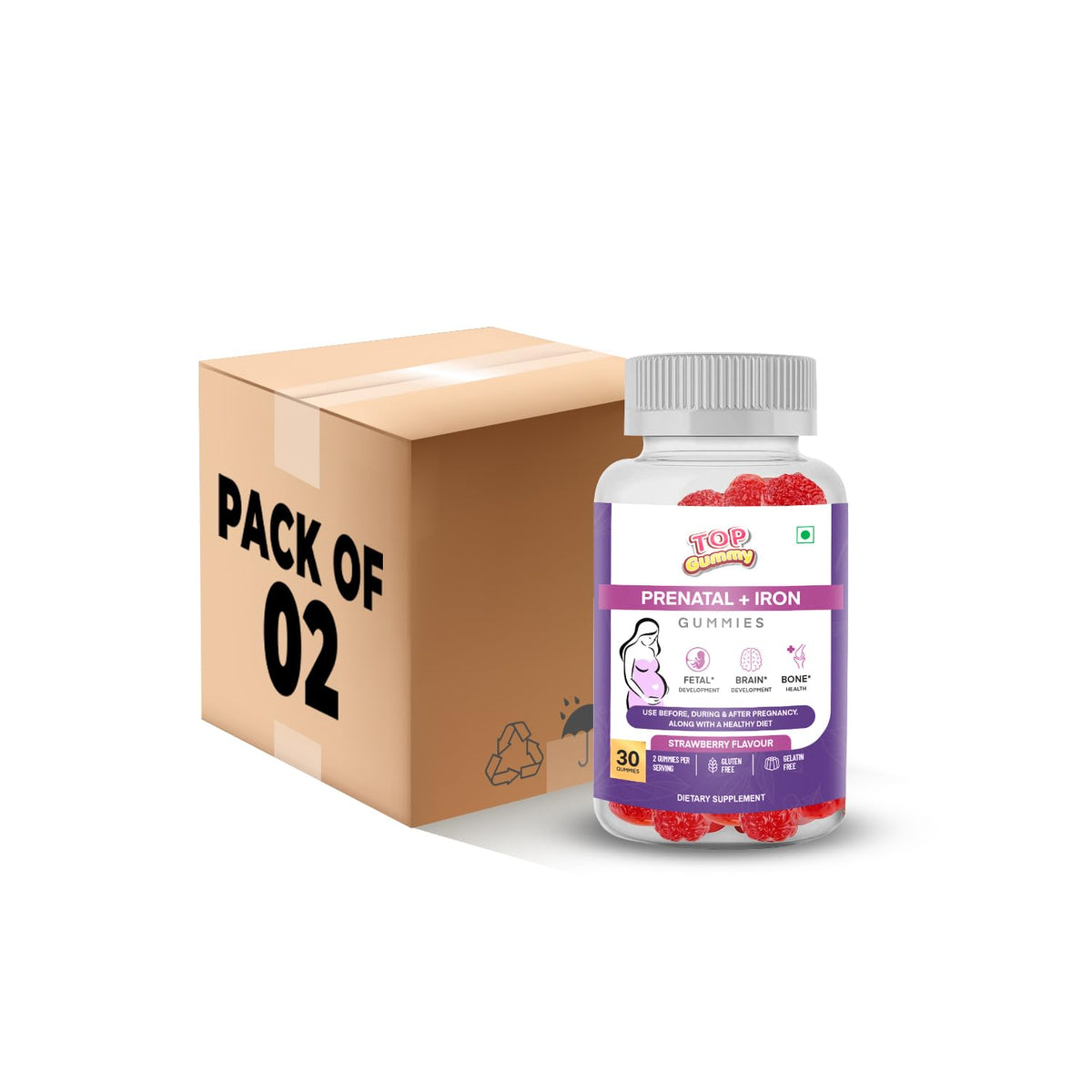 Top Gummy Prenatal + Iron with Vitamin B6, Vitamin B12 & Folic Acid | Use Before, During & After Pregnancy Along with a Healthy Diet - 30 Gummies (Strawberry Flavour) Gluten-Free (Pack of 2)
Product Description :
Top Gummy Prenatal + Iron with Vitamin B6, Vitamin B12 & Folic Acid | Use Before, During & After Pregnancy Along with a Healthy Diet - 30 Gummies (Strawberry Flavour) Gluten-Free, Gelatine-Free
---
Detailed Specifications:
| | |
| --- | --- |
| Package Dimensions : | 15 x 15 x 20 cm; 700 Grams |
| Size : | Pack of 2 |
| Manufacturer : | West Coast Pharmaceuticals Works Ltd; |
| Marketed by : | Merhaki Foods & Nutrition Pvt. Ltd. |
| Flavour : | Strawberry |
| Brand : | Top Gummy |
| Item Part Number : | 3000000164906 |
| Dosage Form : | Gummy |
| Appropriate Age Range : | Adult |
| Country Of Origin : | India |