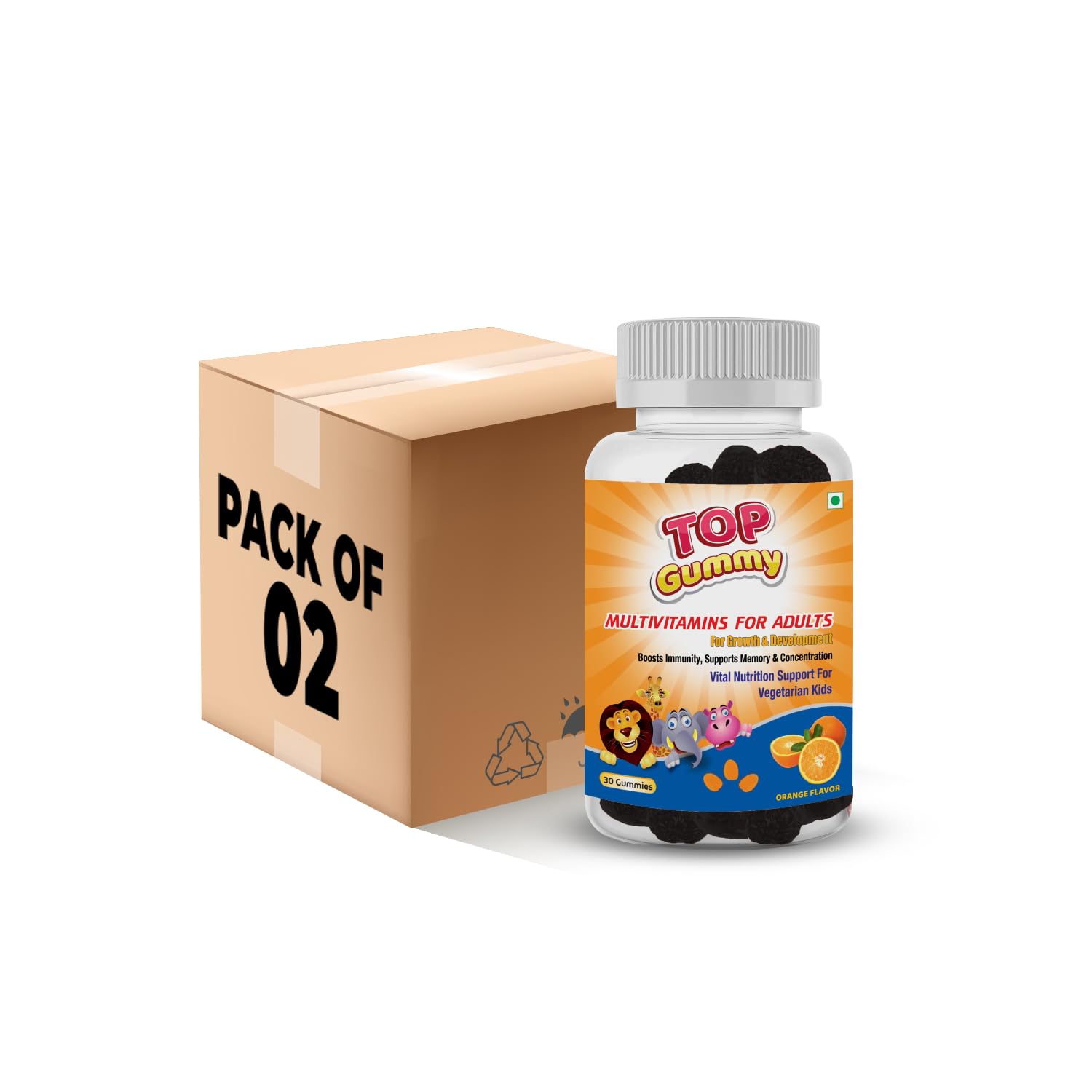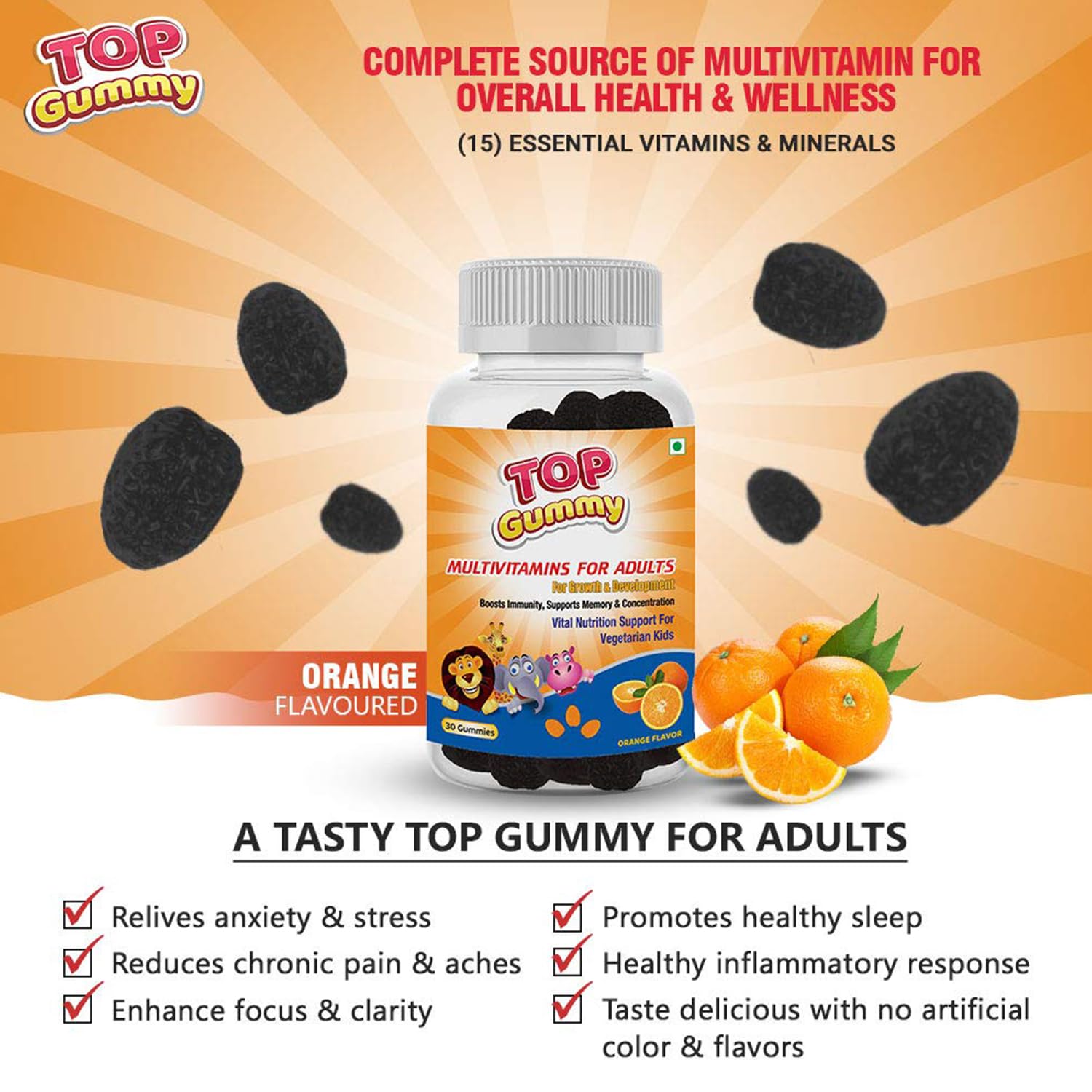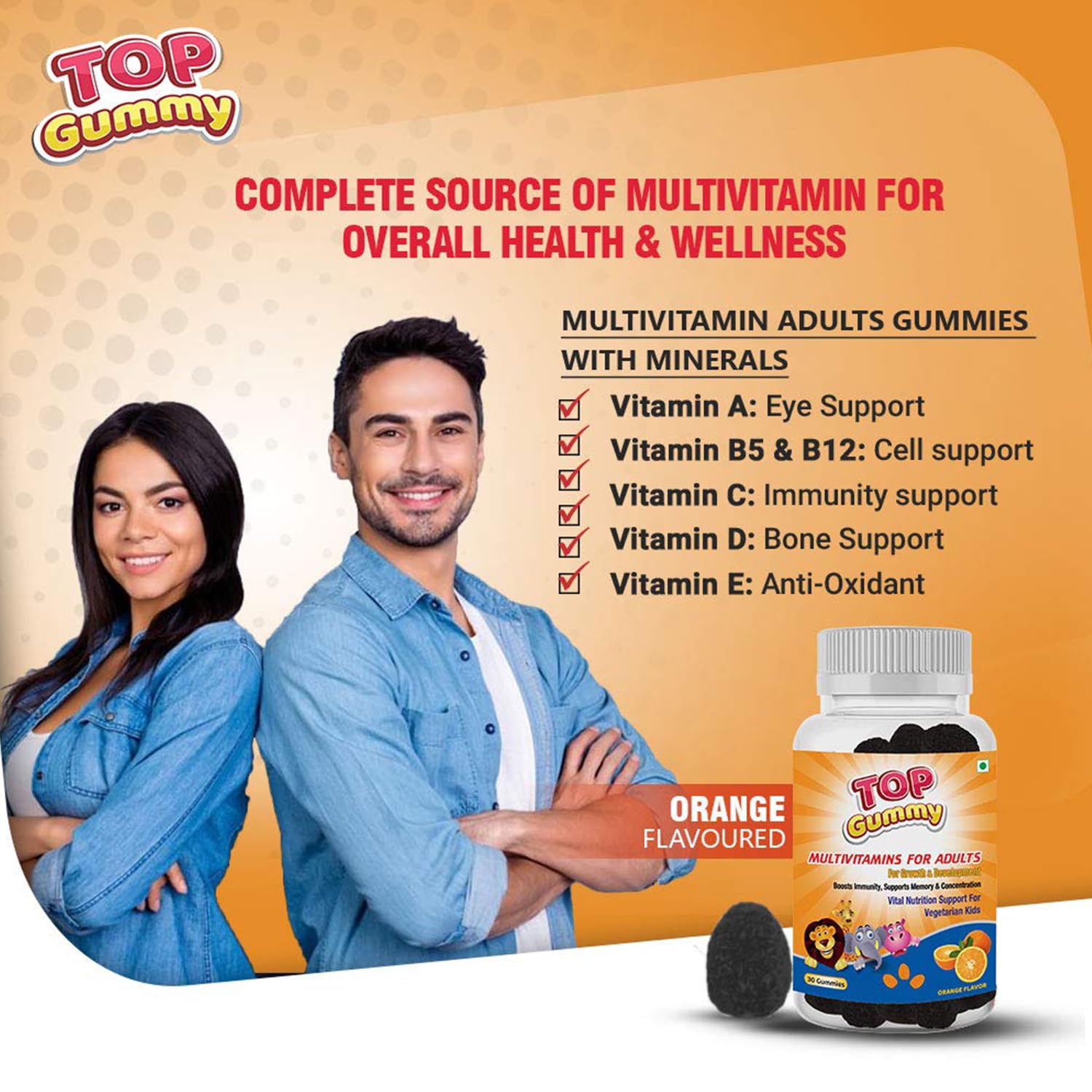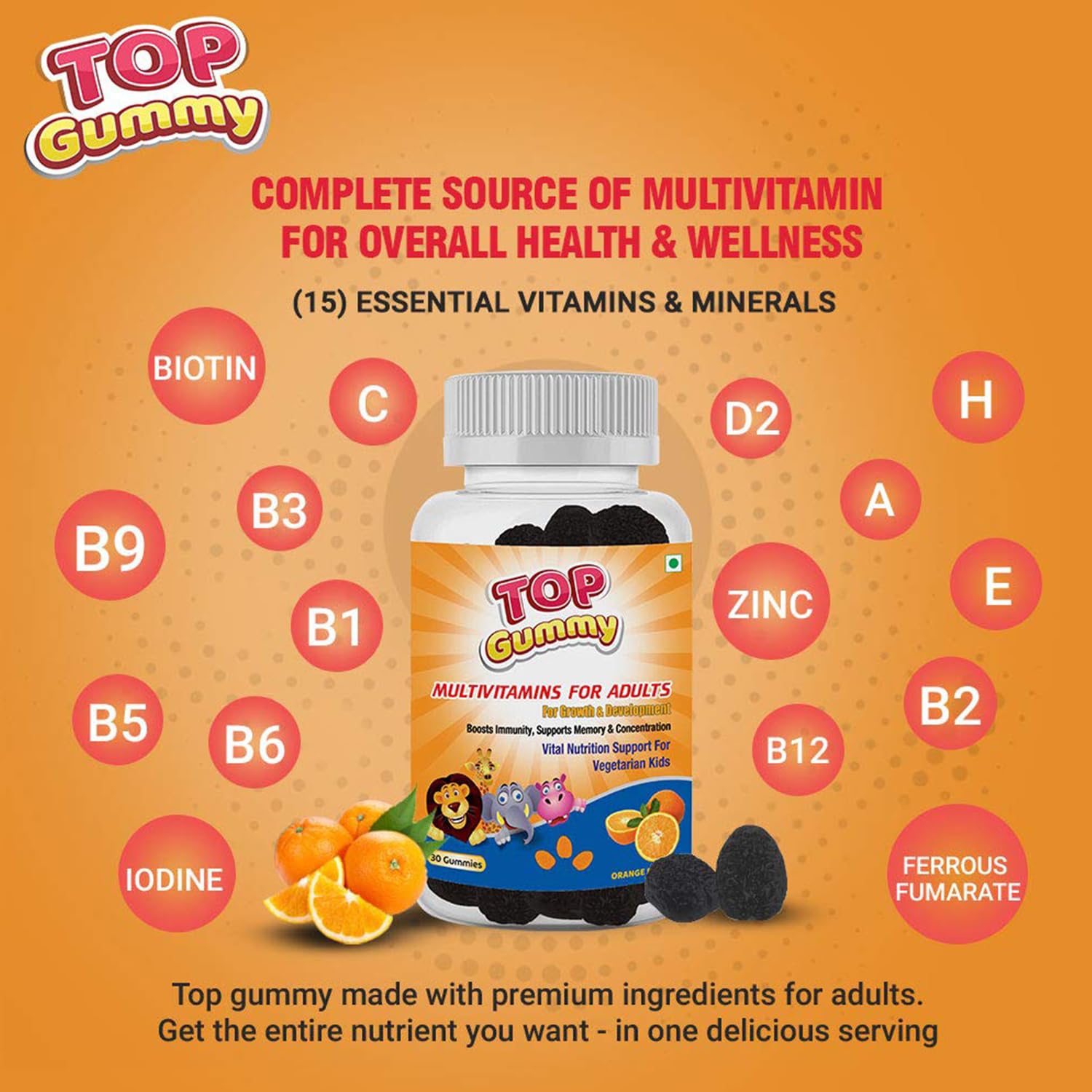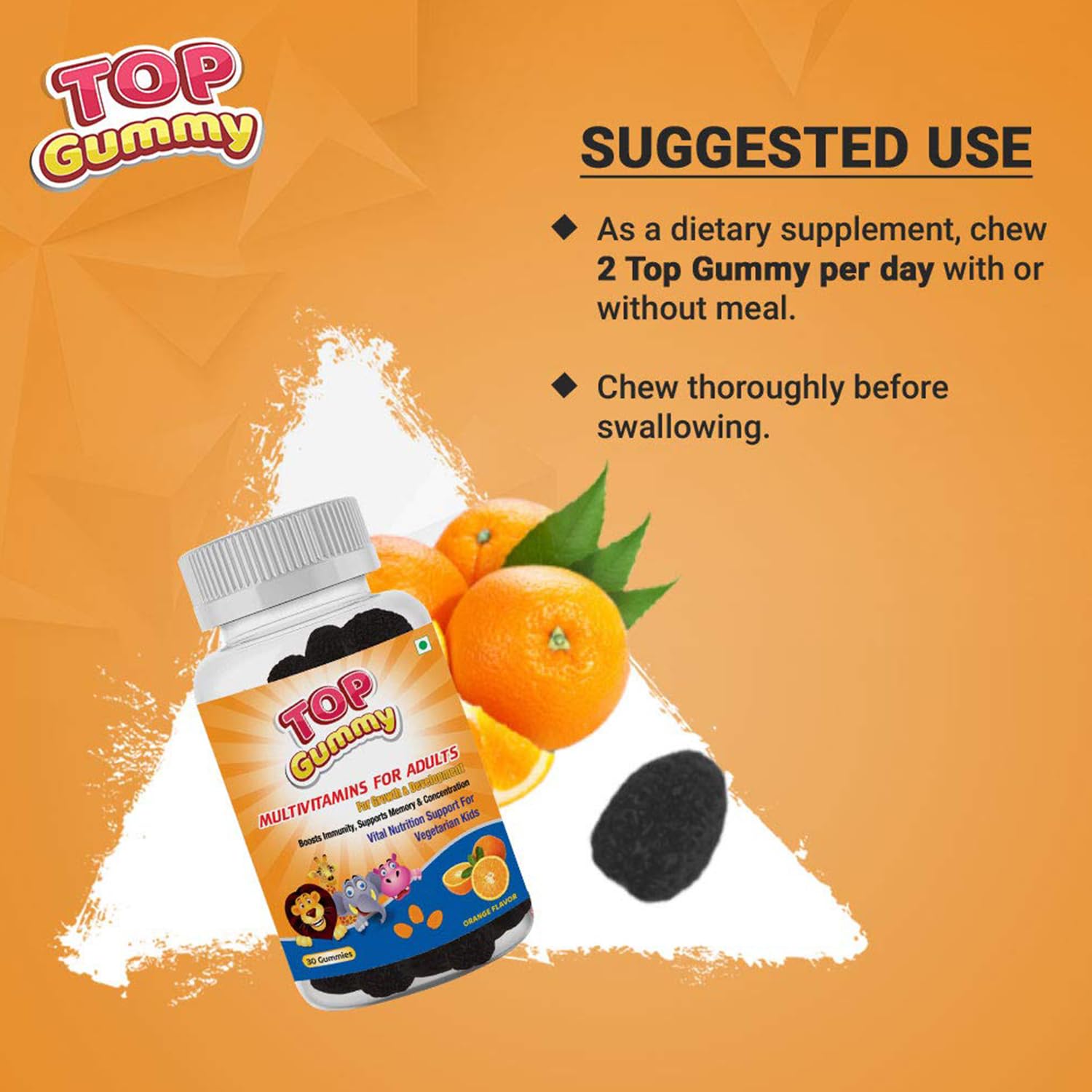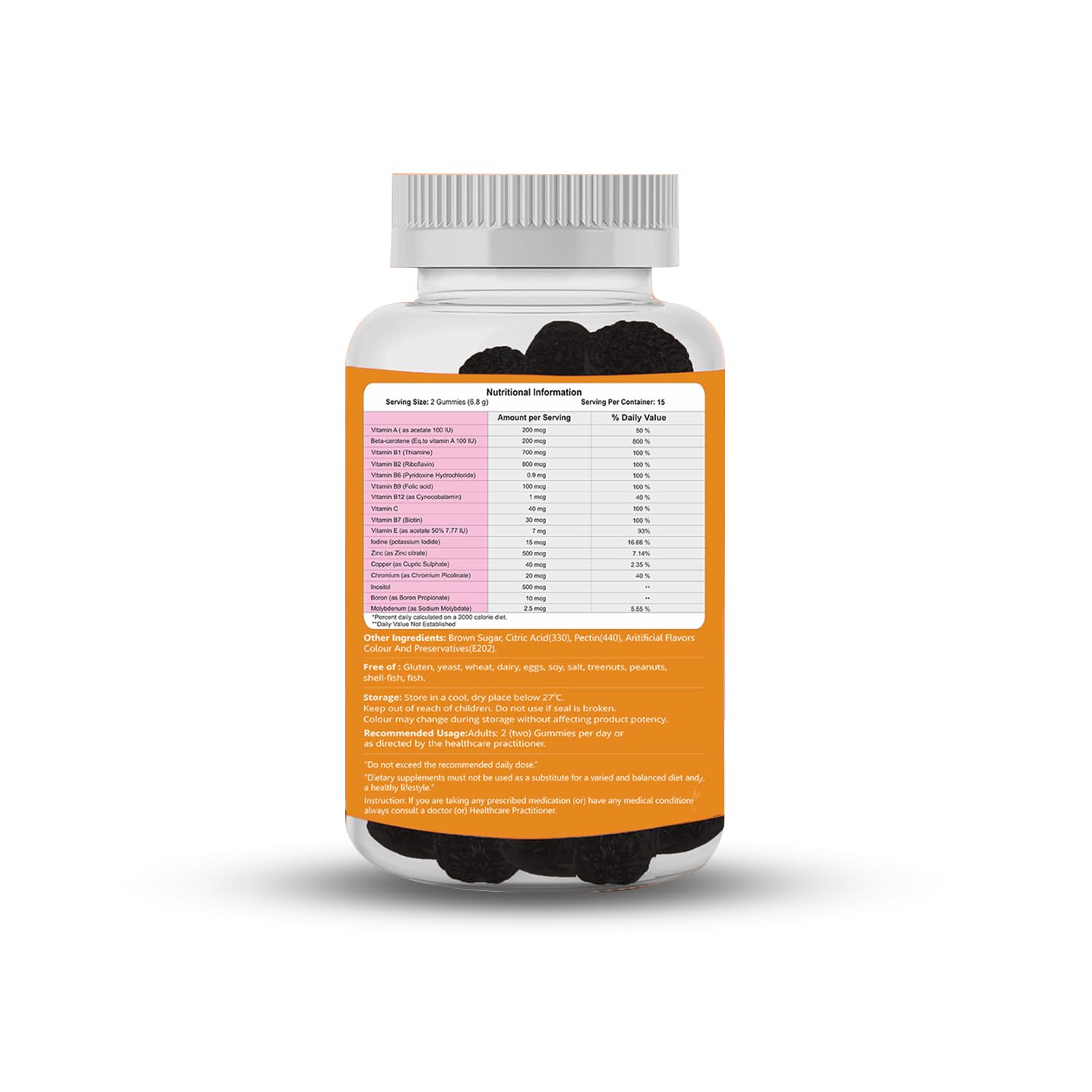 Top Gummy Multivitamin Gummies for Adults with 15 Vitamins & Minerals | Essential Vitamins For Growth, Development & Immunity | Gluten, Soy & Dairy Free - 30 Gummies (Orange Flavor) (Pack of 2)
Regular price

₹ 600/-

Sale price

₹ 395/-

Unit price

per
CLICK HERE FOR COD
About the product :
Adult specific: this Top Gummy vitamin for men and women has 30 orange flavor gummies in every bottle this multivitamin gummy for adult has targeted ingredients to support the needs of men and women
Natural ingredients: 15 vitamins and minerals including vitamin d3 for immune health, for healthy bones and teeth features an array of the b vitamins for energy metabolism
Deliciously safe, vegan and gluten-free: tasty all-natural flavours include orange flavor these adult multivitamin gummies have no \"candy\" ingredients, no pig gelatin and no corn starch
Support: help fill nutritional gaps antioxidant supports strong and healthy bones-teeth maintain healthy immune system sustains energy and metabolism support eye health
Easy to consume: Top Gummy multivitamin gummies offer a wide range of nutrients in easy-to-chew, orange fruit flavoured gummy vitamins easy to take alternative to pills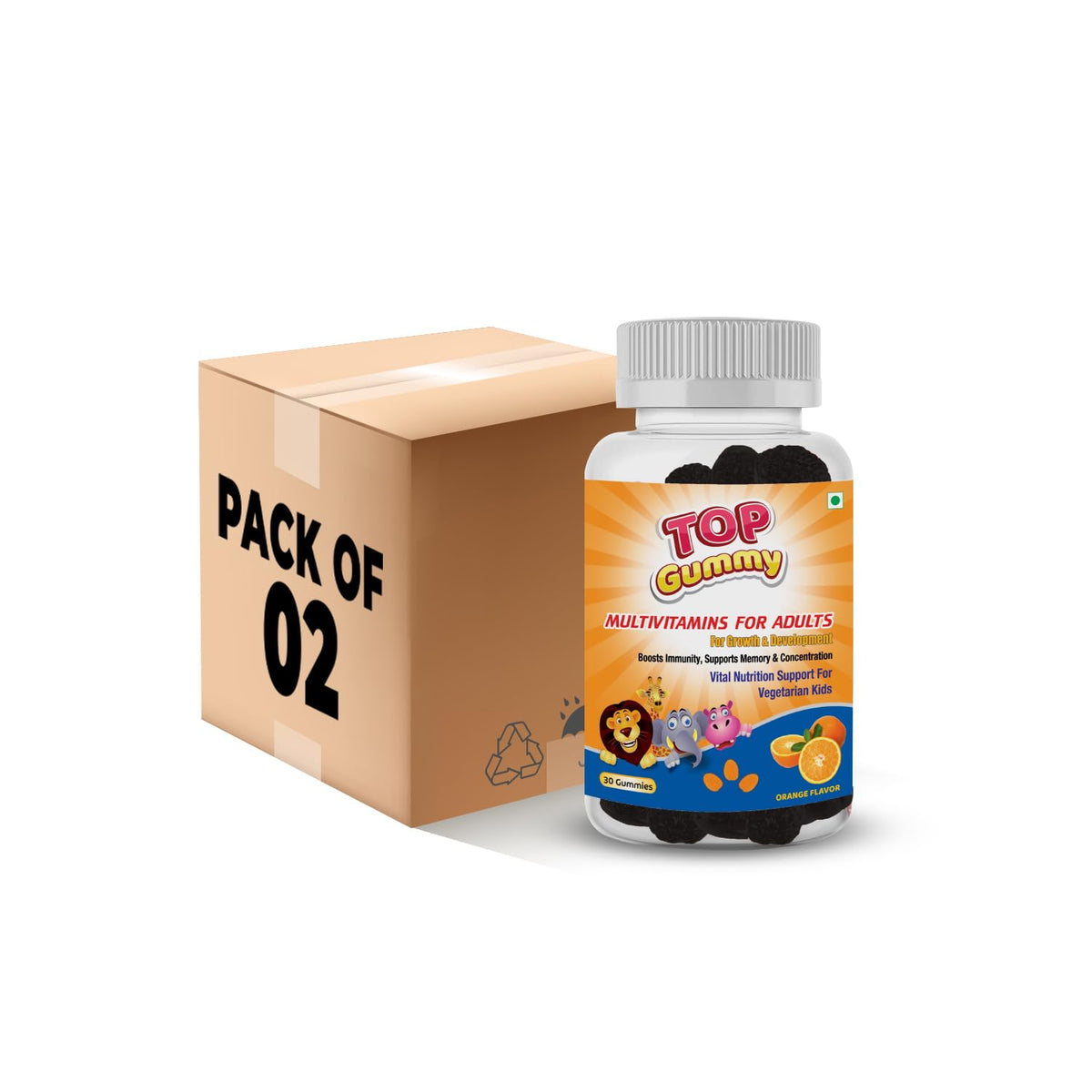 Top Gummy Multivitamin Gummies for Adults with 15 Vitamins & Minerals | Essential Vitamins For Growth, Development & Immunity | Gluten, Soy & Dairy Free - 30 Gummies (Orange Flavor) (Pack of 2)
Product Description :
Top Gummy multivitamin gummies for adults with 15 vitamins minerals – 30 orange flavor gummies, gluten, soy dairy free your (delicious) first steps to amazing health. As you know very few people have a truly balanced diet, with fewer than 10 percent getting the nutrients their bodies need in order to thrive. Top Gummy multivitamin adult gummy gives you a delicious way to take control of your nutrition and start living a healthy lifestyle without any artificial sweeteners. With 15 vitamins minerals, our multivitamin gummy for adults promotes a healthy metabolism, heart health, etc. Adult multi gummy is your first step to excellent health. And with delicious orange flavours, who knew a healthy lifestyle, could be so fun? Top Gummy adults multi-gummy multivitamin / multi-mineral supplement gummy (natural orange fruits flavour, 30 count) - style adult. Multivitamins help support immune system, increase energy mental alertness. It also promotes healthy heart provides nutritional balance. Vitamins are important building blocks of the body and help keep you in good health. Chew this medication thoroughly and swallow, usually once daily or as directed. Follow all directions on the product package. Do not take more than the recommended dosage. Top Gummy contains 15 multivitamins that are scientifically proven to play an important role in bone joint development. Suggested use: as a dietary supplement, chew 2 Top Gummy per day with or without meal. Chew thoroughly before swallowing.
---
Detailed Specifications:
| | |
| --- | --- |
| Package Dimensions : | 12 x 12 x 14 cm; 300 Grams |
| Size : | 15 count (Pack of 2) |
| Manufacturer : | ‎West Coast Pharmaceutical Works Ltd; |
| Marketed by : | Merhaki Foods & Nutrition Pvt. Ltd. |
| Flavour : | Orange |
| Brand : | Top Gummy |
| Item Part Number : | 3000000164897 |
| Dosage Form : | Gummy |
| Appropriate Age Range : | Adult |
| Active Ingredients : | Vitamins & Minerals |
| Country Of Origin : | India |