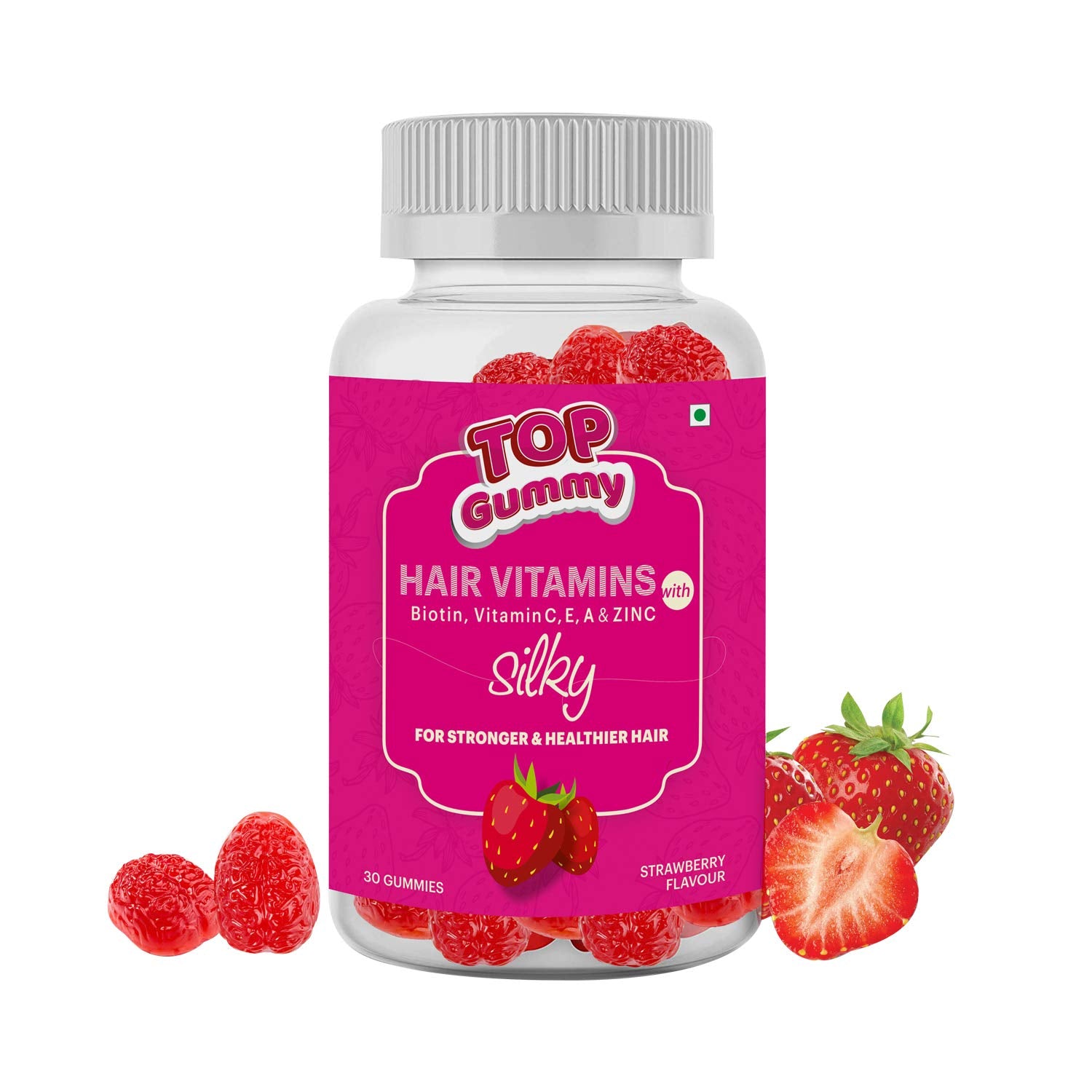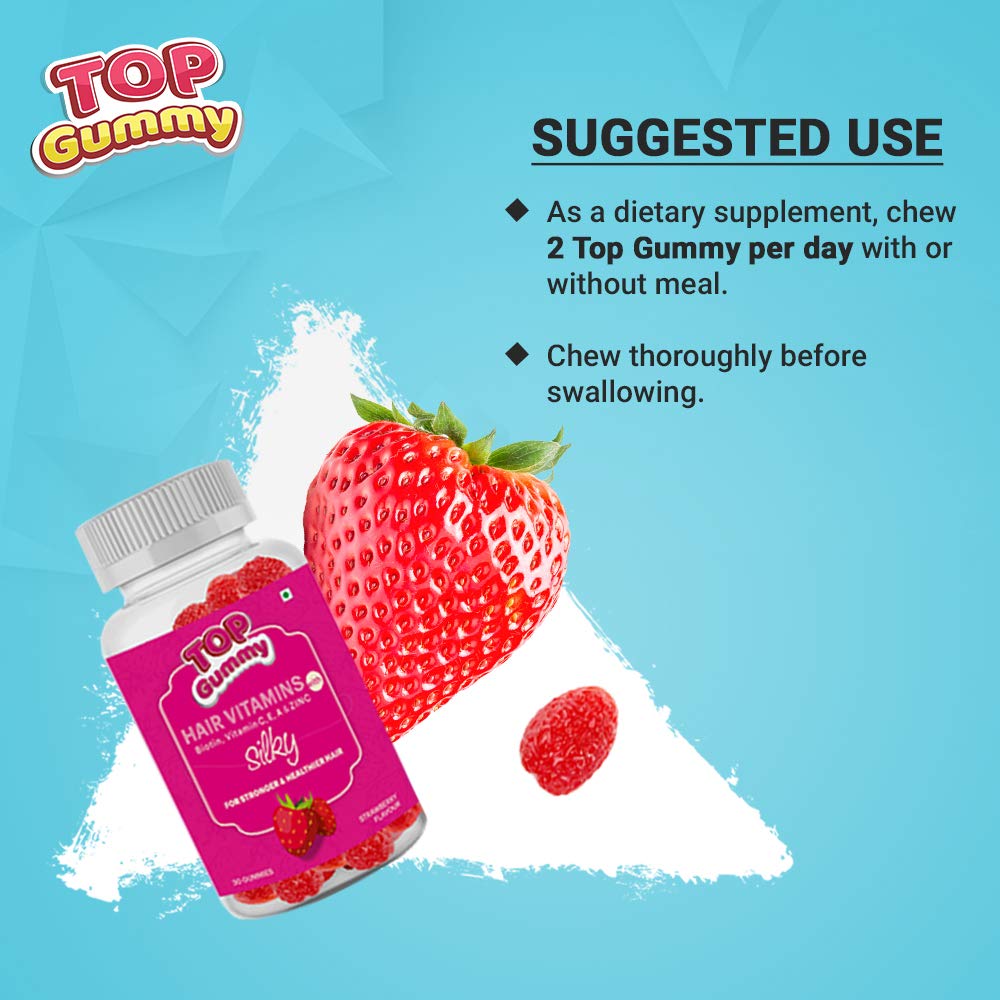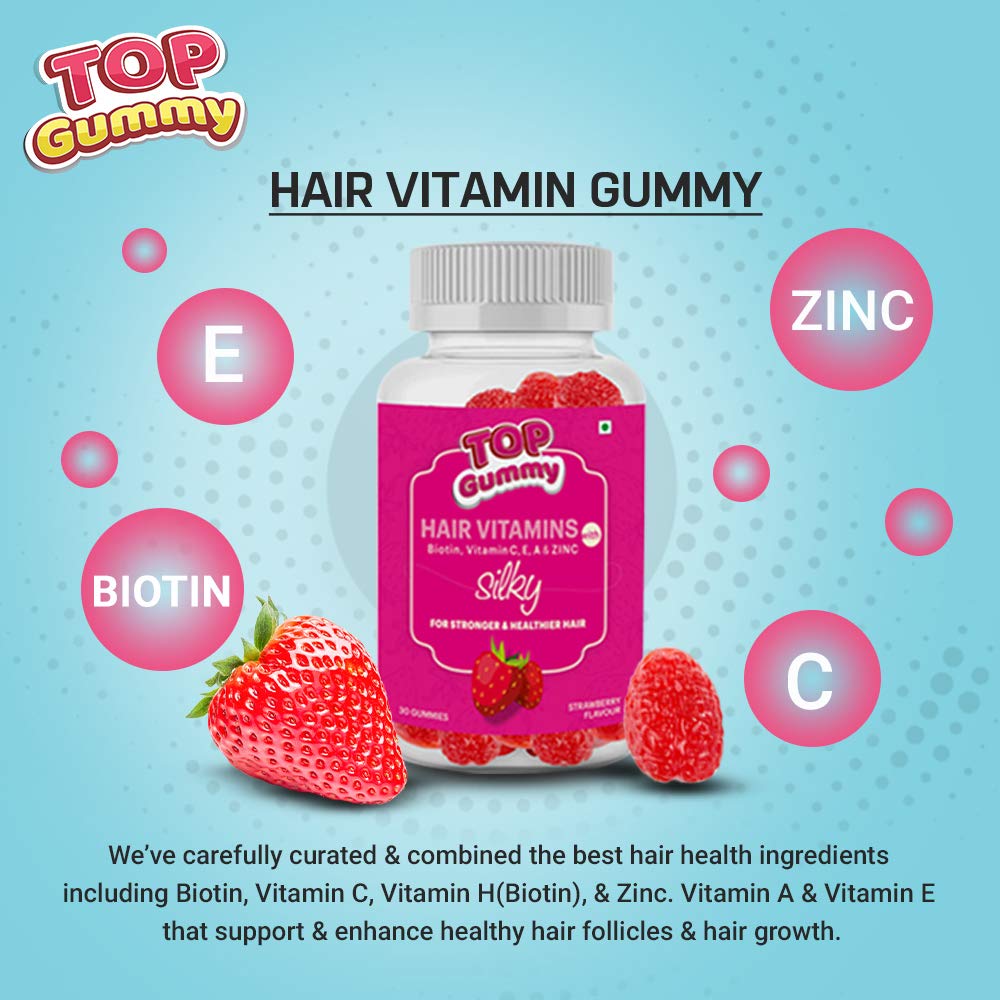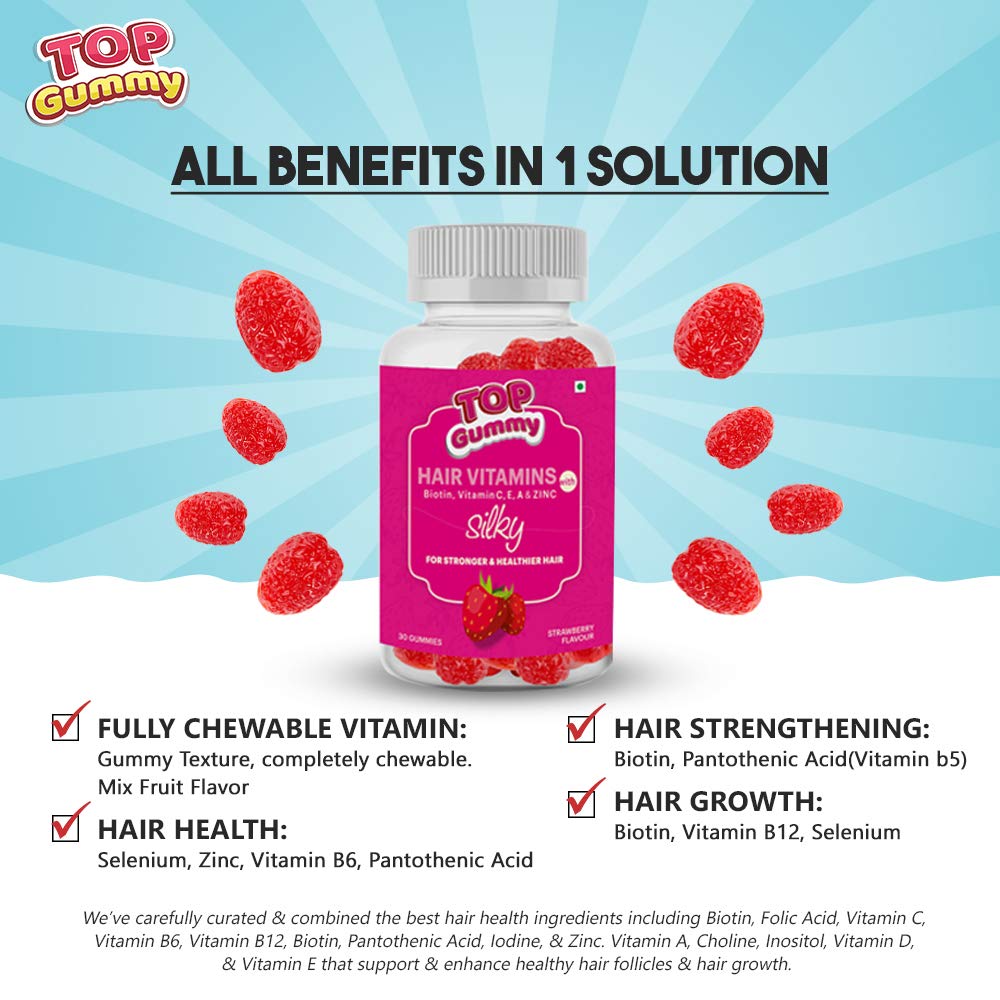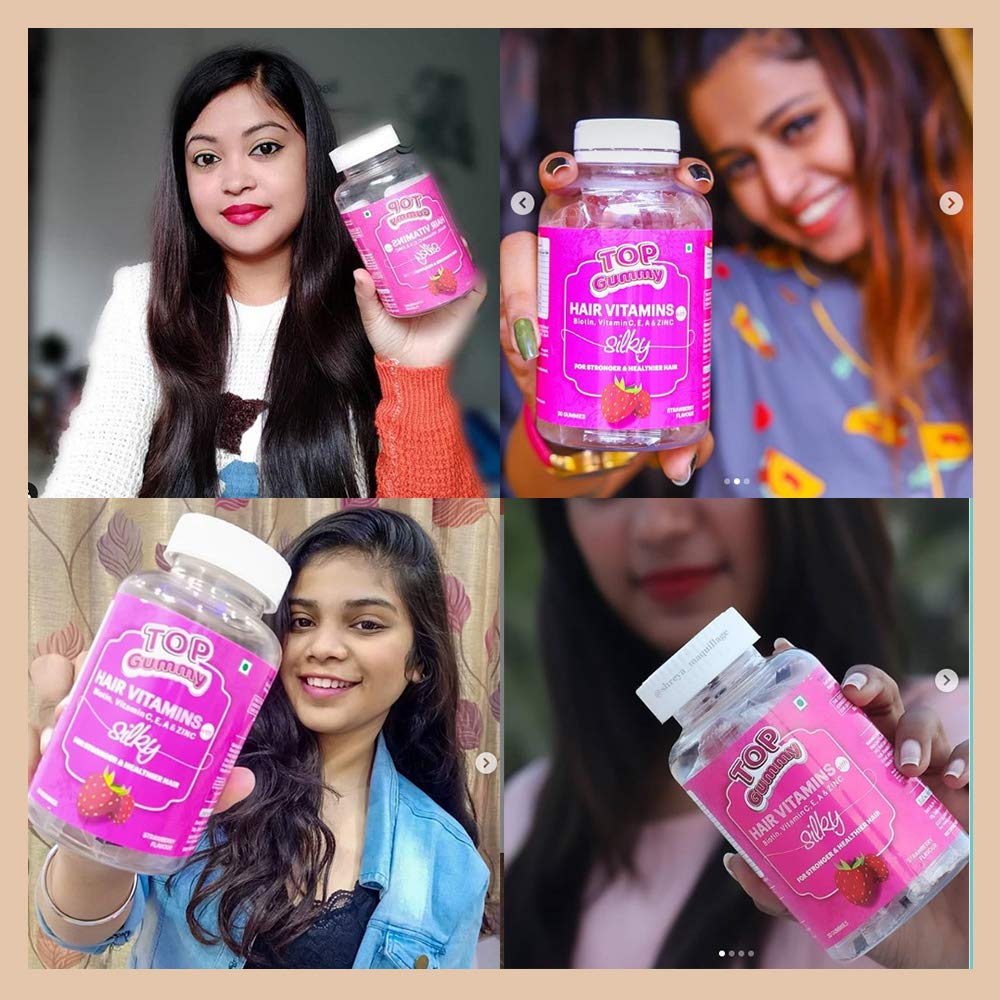 Top Gummy Hair Vitamins with Biotin, Vitamin C, E, A & Zinc | for Stronger and Healthier Hair , Skin & Nails | Antioxidants for Immunity | Gluten, Soy & Dairy Free - 30 Gummies (Strawberry Flavor)
Regular price

₹ 600/-

Sale price

₹ 249/-

Unit price

per
CLICK HERE FOR COD
About the product :
Healthy hair nails and gorgeous skin - biotin changes everything about the way your nails and hair look with constant use your hair will become thicker, shinier and your nails stronger and longer
Country of Origin: India
Easy to consume: Top Gummy multivitamin gummies offer a wide range of nutrients in easy-to-chew, mango flavoured gummy vitamins easy to take alternative to pills
If you desire shiny-silky looking hair, this is your best healthier hair solution biotin ensures super quick hair growth
Delicious flavour with no gelatine - you will enjoy these Top Gummy hair vitamin gummies; they taste great and will make your daily supplement a pleasure
Stronger, thicker, healthier hair - biotin plays a key role in hair growth clinical studies have shown that those deficient in biotin experience hair loss, brittle nails and unhealthy skin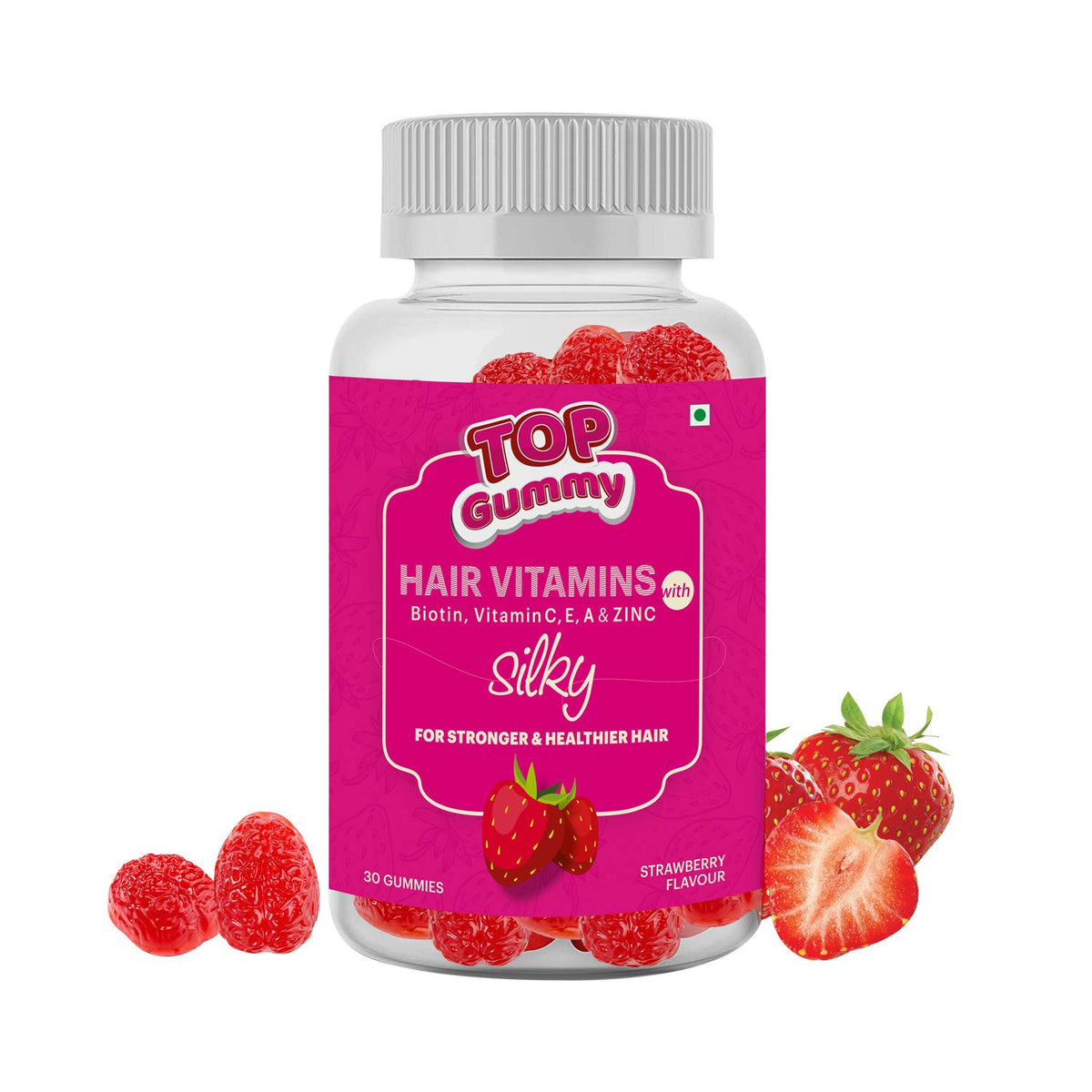 Top Gummy Hair Vitamins with Biotin, Vitamin C, E, A & Zinc | for Stronger and Healthier Hair , Skin & Nails | Antioxidants for Immunity | Gluten, Soy & Dairy Free - 30 Gummies (Strawberry Flavor)
Product Description :
Top Gummy hair vitamin with biotin, vitamin c, e zinc for gorgeous hair 30 strawberry flavour gummies biotin is an essential vitamin which promotes hair and nail growth. Top Gummy is a good multi vitamin with adequate amounts of vitamins. Vitamin b is an important vitamin for both skin and hair. It also helps to reduce stress which is common these days among people between the age group of 18-40 years. Unlike the pills, which we don and; t really like to gulp, we can easily chew the Top Gummy before swallowing them. Long known as the beauty vitamin, biotin has been used for decades to aid in the normal growth of lustrous hair and nails. Top Gummy biotin gummies are a hair booster, which will help you achieve longer glossy hair, beautiful skin and stronger nails. People who suffer from lack of biotin encounter hair breakage, thin nails and dry skin, but we've got you covered with these gummies. Biotin will help improve the health of hair, nails skin. It helps the immune system of the body as well as helps the body to produce collagen necessary for skin, hair connective tissue, energy metabolism overall health. 100 Percent vegetarian with tasty, chewable gummy vitamins and gluten free. Biotin plays a key role in hair growth and loss if you desire shiny looking hair, this is your best long hair solution. Hair will become thicker, shinier and nails stronger and longer. Biotin ensures super quick hair growth for the best price multi vitamins with biotin to boost metabolism. Combination of more than 10 essential vitamins to promote healthy hair. Improve the health of your skin direction of use: take 2 gummies daily or as directed by a heal care professional. Ingredients: pectin, natural color, natural identical flavours, vitamin h(biotin), vitamin c, zinc.
---
Detailed Specifications:
| | |
| --- | --- |
| Package Dimensions : | 8 x 8 x 15 cm; 210 Grams |
| Size : | 30 Count (Pack of 1) |
| Manufacturer : | West Coast Pharmaceutical Works Ltd; |
| Marketed by : | Merhaki Foods & Nutrition Pvt. Ltd. |
| Flavour : | Strawberry |
| Brand : | Top Gummy |
| Model Number : | YO-UQN1-6PZX |
| Item Part Number : | YO-UQN1-6PZX |
| Item Length : | 14 cm |
| Item Height : | 14 cm |
| Dosage Form : | Gummy |
| Batteries Required : | false |
| Appropriate Age Range : | Adult |
| Country Of Origin : | India |